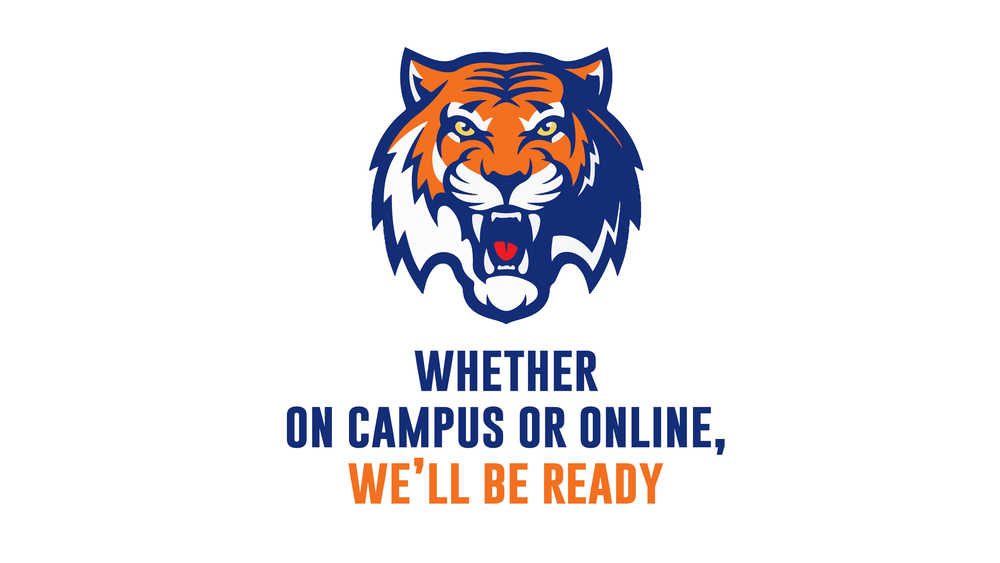 COVID & TCS - Our Plan
TCS Tigers
Friday, July 31, 2020
COVID is still effecting and changing everything. But praise the Lord that we have a God who is the same YESTERDAY, TODAY, AND FOREVER!
"Jesus Christ is the same yesterday and today and forever." Hebrews 13:8
It is such a comfort knowing that He never changes even though our world is changing every day. And those changes are effecting our school too.
As the state and our county have put new restrictions on schools meeting in the fall, we wanted to update you on our plan to re-open in the fall. Yes! We will be ready for distance learning or on-campus learning. (And we are praying for the latter!)
Mr. Jepsen sent out an update yesterday with many of our re-opening plans, but in case you missed it, please find our COVID plan below as of July 31st, 2020 or click HERE for the most up-to-date news.
---
Dear Parents,
Below, I will try to answer the many questions you may have about the future of your child's education. The teachers and staff here at Trinity strongly desire to see that your child's education continue without any loss in their learning. Some schools and districts believe their students may have lost up to 60% of their education this past spring and as we move into the fall, this may very well continue.
This was not the case at Trinity, I am pleased to say that Trinity students were challenged and the teachers kept the students on track to the end of the school year. If need be, Trinity's teachers will once again meet the challenge of Distance Learning, a Hybrid model or full in class instruction with vigor to accomplish the educational goals of their students. The intent of this letter is to answer the questions you may have and give you the direction you'll need as we move forward.
What will your students' learning look like in the fall?
With the latest announcement from the governor, we will likely start the school year with distance learning, until Los Angeles County is removed from the watch list. We begin much later than most schools, and since we are scheduled to start school in September, we may be able to avoid distance learning and begin school with a hybrid model.
How many days will students be on campus?
Our hybrid model, uses the following schedule:
K – 2nd will be on campus M-Th., with 1 day for distance learning.
3rd – 5th will be on campus T, Th, F with distance learning for 2 days.
6th -8th will be on campus M,W, F with distance learning for 2 days
This staggered schedule allows for no more than 2/3 of the classes to be on campus at one time. This makes it easier to monitor and manage the students that are on campus.
What if I do not want my child on campus?
If you choose to keep your child at home, students may participate in distance learning rather than come on campus. Parents will make this decision for their child.
What can I expect with Distance Learning?
Students will be expected to participate in classes and attendance will be taken daily.
Will there be a hot lunch program on campus?
We are looking to use an outside company to provide lunch. They will meet all health requirements. There will be no food preparation on campus. This includes food brought from home and allowing any staff member to reheat any lunches for students.
What will my child need for Distance Learning?
All students will need an electronic device as a learning tool: Chromebook, laptop, iPad. Smartphones are not considered an effective learning device.
What are the expectations for health, safety, and cleaning?
Every student's temperature will be checked upon entry.
Masks must be worn by all staff and students while on campus.
6' distancing will be used and the standard for students on campus
Routine cleaning will take place in the classrooms, restrooms and high areas of contact.
Arrival on Campus
Students' arrival on campus will be determined by the grade they are in. We will be staggering the entry times to minimize contact with one another. If you have a child in multiple grades, bring the student with the earlier start time along with the other siblings. No need for you to wait for the later start times.
K – 2nd will begin classes at 8:40 and may arrive after 8:30
3rd – 5th will begin classes at 8:30 and may arrive after 8:20
6th – 8th will begin classes at 8:20 and may arrive after 8:10
Daycare Program
Daycare will be open from 7:00-8:00 in the morning
Students will be dismissed and directed to the classroom at 8:00am.
It will be open after dismissal until 6:00pm.
Only parents who have signed their child up early for daycare will be allowed to attend. No drop-ins will be allowed until further notice.
Sports, Choir, Music, and PE Programs
All these programs will be suspended until further notice.
Will tuition be discounted with Distance Learning or hybrid learning?
I believe Trinity will provide one of the best educations for your child whether in class or with distance learning. Our teachers provide an unmatched education for your child and there is not a drop in the quality of education. Therefore, it is not necessary to provide a tuition discount for state mandated distance learning or a hybrid schedule. We are a self-sufficient entity, so we do not have a larger organization or the government behind us to provide the necessary funds to help us weather financial storms. If you are encountering financial difficulties, please contact the school office to learn more about tuition assistance options that might be available.
When is the first day of school?
Hybrid Schedule – On campus with distance learning
Kindergarten: Wednesday, September 9.
1st -5th grade: Thursday, September 10.
6th -8th Friday, September 11.
Distance Learning
All grades will begin. Thursday, September 10, with Distance Learning until cleared by the LA Health Dept.
If you have any questions, please call the office at (562) 864-3712.