Over the weekend, our Junior High staff visited all of the 8th grade students at their homes to give a little bit of love and conGRAD-ulations to our amazing graduates!
Usually, the 8th graders get to have a graduation party and celebrate on campus with all the teachers and students, but this year was unique. While the kids couldn't gather together at Trinity this year, our staff decided to bring the "celebration" to them!
Mr. Holt (8th), Mrs. Love (7th), Mrs. Chavez (6th), Mr. Jepsen, and Pastor Eddie met up at Trinity and then caravanned all around town from Downey to Whittier to Norwalk to Bell Gardens taking personalized 2020 Trinity Graduate signs and HUGE cookies to every 8th grader.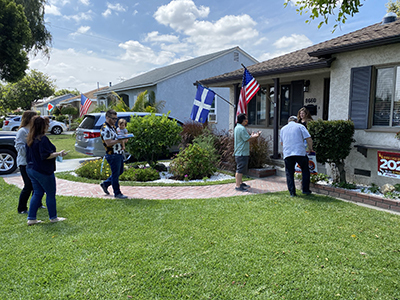 Many of the students were overwhelmed and so confused to see their teachers at their house, but the joy and pride on their faces for knowing their amazing accomplishment of graduating was an very special moment to witness.
We are all so proud of our graduating 8th graders and wish them all the very best of luck and sending them all our prayers as they venture on into high school this Fall.
Here are some pictures from the Saturday celebrations!